I went through the rigors when trying to decide on an aftermarket stock set-up for my 700s. In the end, I went with the Accuracy International Chassis System (AICS).
http://www.accuracyinternational.com/aics_kits.php
The AICS comes in three colors: Black, Green, and Dark Earth. The AICS Stage 1.5 is the fixed stock version and the AICS Stage 2.0 is the newer version with the folding stock. Both the 1.5 and 2.0 come with an adjustable cheek piece for a customizeable cheek weld. To accommodate a wide range of calibers, there are short-action (.243-.308) and long-action (.300 win mag) versions of both the Stage 1.5 and Stage 2.0. The chassis comes in both left-handed and right-handed models. All chassis models come standard with a flush fitting 5 round detachable magazine manufactured from corrosion resistant steel. Ten round exteded steel magazines are available. For the smaller .223 rounds, a polymer magazine is available but does not come with the chassis.
This set-up has everything I was looking for. The chassis is self bedding and has a detachable box magazine built in, so theres no need for a DBM conversion kit. This only works with 700s that DO NOT already come with a detachable box mag. Models that come from the factory with a DBM will have the feed ramps built into the magazine and not the barrel. These models will likely need a kit for use with the AICS.
There are a ton of aftermarket accessories available as well. I added an Accushot rear monopod to both of mine and an Atlas Bipod to my .308 using the spigot mount designed for the AICS. The chassis also comes standard with a sling swivel stud for mounting standard bipod or sling swivel.
I absolutely love these rigs. They are an unbelieveably stable platform and take a lot of the human error out of my shots. (I need all the help I can get) They are great for benchrest or prone shooting, but would likely get a bit heavy for lugging around while hunting. Installation was as easy as removing a couple screws from the factory stock, dropping the action and barrel into the AICS, and tightening the screws back up.
Here are some photos of my AICS rigs...
20" 700 SPS Tactical .223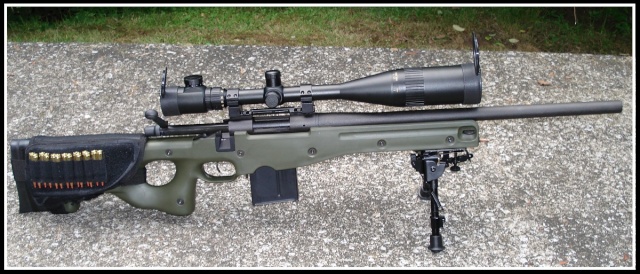 20" 700 SPS Tactical AAC-SD .308
I'll be happy to answer any questions anyone may have regarding the AICS platform.