The following comments are my personal opinion. I am neither an engineer nor a firearms designer. I have been shooting and handloading for over 30 years and am simply sharing my observations and thoughts. I encourage anyone with questions or concerns to contact Remington directly.
I have been as strong a supporter of the R51 as anyone; our household owns two (hard to support much more than that) and I've been very vocal in refuting what I've viewed (and in some cases STILL view) as unfair, clearly biased, and inaccurate (possibly untruthful and certainly overblown) reporting of "issues" related to the Remington R51. I have been quite excited by the potential of this firearm and will state that my shooting session with mine (I've only had the opportunity to take the firearm out once, shooting 100 rounds) was exactly what I'd hoped for related to reliability, reduced recoil, rapid target acquisition, and minimal split times between shots. In short, I very much like my R51.
Having said all of that, seemingly legitimate reports of problems with the R51 continue to mount in various venues including at gun shop counters, within internet forums, and on YouTube review videos. At this point there seem to be more than enough to preclude further debate as to whether there are real problems with the gun. While some of the very first "reviews" may have been overly critical and certainly seemed to contain strong bias against the gun's manufacturer, the newest videos provide strong technical evidence supporting the possibility of significant design problems. Stated another way, now that the guns have made their way into the hands of intelligent, observant, well spoken, open minded individuals, a very concerning possibility is emerging – that the R51 (as presently designed - 3/31/14) may not only be plagued with potential design issues, but might also be a catastrophically unsafe firearm.
First let me share my personal definition of a potentially "catastrophic safety issue." This would be an issue that could cause significant damage (including premature wear) or destruction to the firearm and/or injure or kill the person using it. I think most will agree that a firearm exhibiting signs of overpressure and/or firing out of battery falls squarely into the possible "potentially catastrophic" realm. Attached is a link to a video that seem to show the R51 firing "out of battery." (quite convincing evidence in the form of a severely bulged case recovered from the firearm is provided) There is an additional link to a video which also seems to indicate the gun experiencing potentially unsafe pressure issues due to primer flow. Keeping in mind that this gun has been marketed and stated to be designed for "+P" rated ammunition (my gun has +P stamped on the barrel) and a possibly disastrous condition exists; one where a firearm already being subjected to elevated pressure conditions due to either design or manufacturing problems is being used by owners who have been encouraged through marketing to use higher than standard pressure ammo.
Also attached are pictures of cases fired from my R51. Looking at the primers there is clear evidence of primer flow, bordering (in my opinion) on primer piercing. After reviewing ALL of the cases that I was able to recover during my shooting session, they all show the same two signs, primer flow and significant scratching on the case exterior. Both seem to support the opinion offered in the linked "Remington R51 Out of Battery Discharge Failure" video posted on YouTube. The opinion shared is that the cases are sticking in the chamber leading to an over pressure condition. A further opinion is offered that the same issue (poor chamber machining and/or a significantly unsupported chamber)is also leading to the much more serious issue of firing out of battery. A secondary design issue, that the trigger can allow the hammer to fall prior to the gun being fully in battery is offered a co-contributor to the OOB firing problem.
Also attached are pictures from Google (they are not mine) which purportedly show a case separation in an R51. A true case separation is something I NEVER seen or ever seen or even heard of in a handgun – especially one with a tapered cartridge such as the 9mm.
Videos:
"Remington R51 Out of Battery Discharge Failure" (shows budged case and primer flow – also offers great commentary on issue)
https://www.youtube.com/watch?v=AvEAr9T ... 8Nmksc3-eQ
"Remington R51 First Shots and Impressions" (even keeled review – if you go to minute 4:57 primer flow on fired cases shown)
https://www.youtube.com/watch?v=Ojm9HSSqSoI
UPDATED 4-1-14 11:22EDT
Picture of budged case from the linked video.
To me, it is hard to tell 100% from the video - but the gun *externally* did appear to be in battery...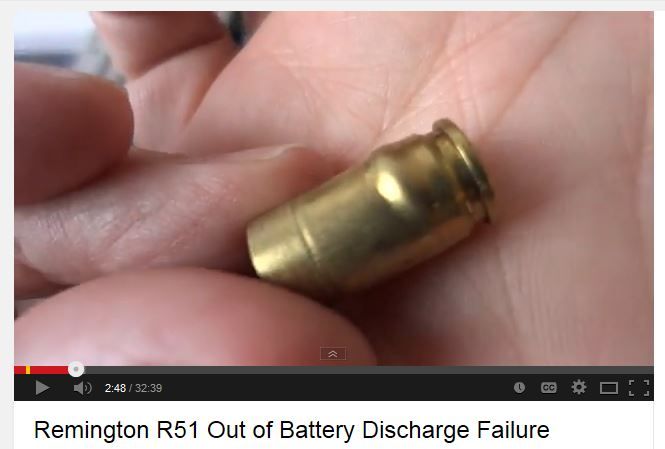 Pictures of fired cases from my R51: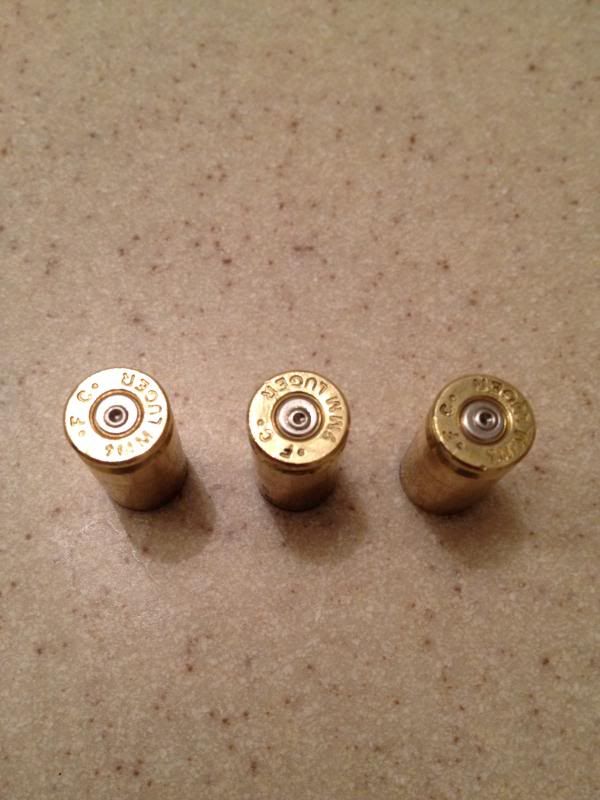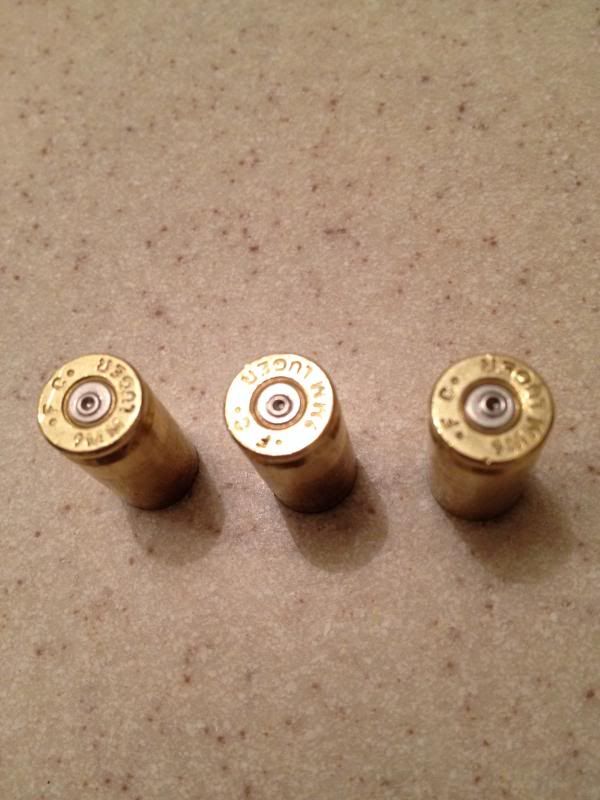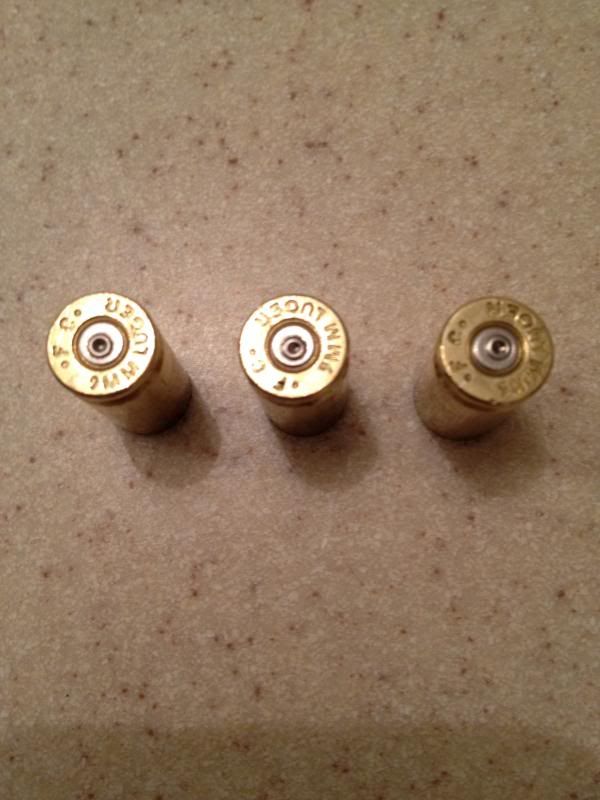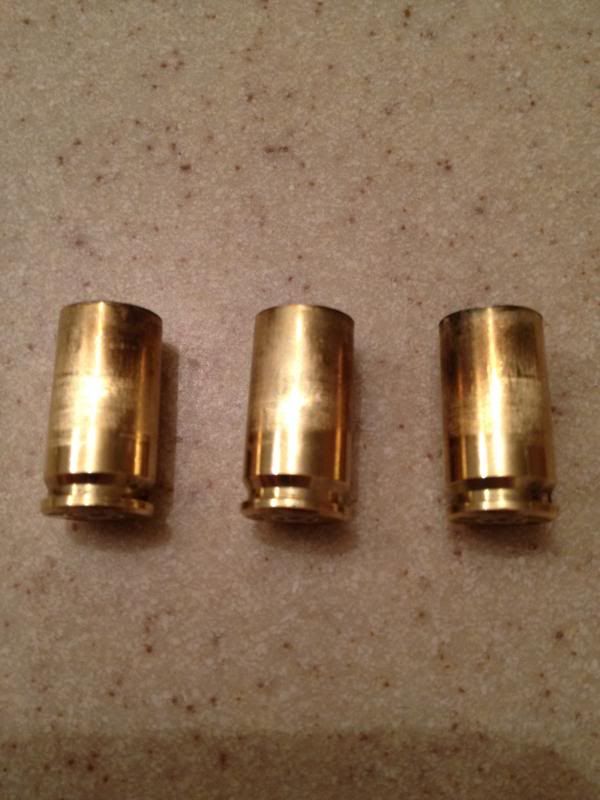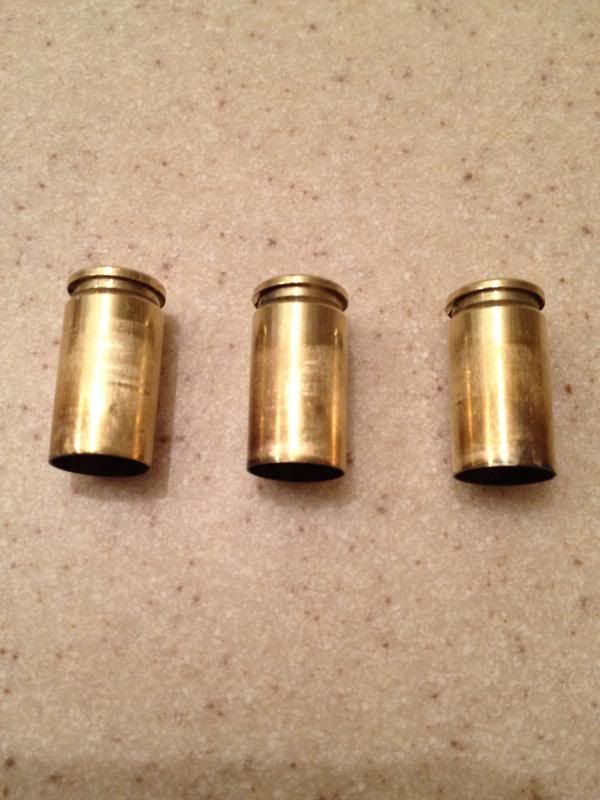 Pictures of case separation from google: